Your RC Headquarters!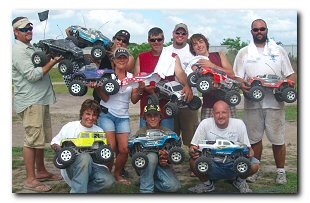 If you are a RC fanatic we have what you are looking for!
We specialize in the HPI Savage, Savage X, Savage XL and Savage SS Kits, genuine HPI Savage Parts, bodies, tires, wheels and (Hop Up) option parts but our inventory and interest doesn't stop there. At Savage Hobby you will find the latest in Helicopters, Airplanes, Boats, Trucks, Cars as well as the equipment and accessories needed to operate, repair or just Hop them up.
Operating and enjoying RC Cars and Trucks is a growing family sport around the world with new RC Truck and Remote Control Cars available in your choice of nitro and electric engines. RC Cars and trucks can be operated in any climate all year long, at the park, in the sand or snow, some enjoy rock crawling with their Monster RC Truck, RC Truck pulls, racing at one of many indoor or outdoor RC Truck and Remote Control Car tracks available or just outside in your own yard. Although we specialize in the RC Truck Savage Series, we also carry other brands of Remote Control Cars and Trucks.
You can Hop Up or repair your RC Truck with original HPI Savage Parts or aftermarket parts available at Savage Hobby. Need Hop Up and replacement parts for other remote control cars, boats, airplanes and helicopters they are also available at Savage Hobby.
We have a team of Remote Control experienced staff studying and testing new RC models as they are released, our friendly and experienced team is also available for prompt technical support for your RC Truck, RC Cars, Helicopters, Airplanes, and Boats available at our store.
FEATURED ITEM: SAVAGE X 4.6 RTR Kit msrp $799.00 our every day price $410.00 in your choice of blue or red body color.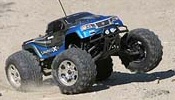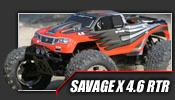 Savage Hobby is an authorized Traxxus and HPI dealership.